<![CDATA[

by Jake Runyon (@Jakerunyon)

Before the season started, I decided that I wasn't ready to give any sort of predictions about UNLV's season since there were too many unknowns. Today, I am dusting off the old crystal ball to take look into the future the rest of UNLV's regular season.

December 31, @ Wyoming: I think it is pretty messed up that the Mountain West Conference scheduled us to be in Laramie, Wyoming on New Years Eve. What kind of joke is this? UNLV will have their hands full in this one. Wyoming is a very experienced team, and arguably the most athletic team in the conference. The Cowboys will want to slow down tempo, and make UNLV play at a slow pace. To beat Wyoming, you have to beat Larry Nance, Jr. Much easier said than done, but with the way UNLV has been defending the post lately, I think they should do it. Expect Wood and Vaughn to provide the offense again. UNLV 66 Wyoming 58.

PS: Never forget

January 7, vs UNR: Deonte Burton is gone. This SHOULD be easy. UNR is shooting a disgusting .388 from the field (319th in the country). Hopefully this one is a cakewalk. UNLV 80- UNR 63

January 10, vs SJSU: Does SJSU even have a basketball team? Against Washington state last week, they added football players to their team to give them enough bodies to play. 5 players were suspended indefinitely on December 14. If this isn't a win…. heaven help us. UNLV 82-50

Janury 13, at Boise State: The Broncos looked like they were a legit contender in the MWC until they lost to Loyola Chicago, and announced that second leading scorer, Anthony Drmic would miss the rest of the season with an ankle injury. They still have a terrific player in Derrick Marks, and there is no such thing as an easy road win in the Mountain West. UNLV 72, Boise St 67

January 17, at SDSU: Steve Fisher is an evil wizard. However, his team has shown some major flaws this season. They can't score. They make up for that with a swarming defense. I think if any team in the conference can beat SDSU, it is UNLV. I don't think that will happen at the Viejas Arena. SDSU 70 UNLV 66

January 21, vs New Mexico: It is unfair to judge New Mexico this year after they lost Kendall Williams, Cameron Bairstow, and Alex Kirk. That kind of productivity is difficult to replace. Plus the Lobos have been dealing with injuries. However, this is a team that is well coached, and aren't intimidated in the Thomas and Mack. UNLV wins, but it won't as easy as people think. UNLV 75, New Mexico 70

PS: What is up with how Cullen Neal wears his shorts?
January 24, vs Utah State: This is a special game for me, because it marks the return of the best hair in college basketball….
But his tremendous hair isn't enough to come into the Thomas and Mack Center pull off the upset. UNLV 80, USU 66
January 27, @ UNR: Chris Murray, beat writer for UNR at the Reno Gazette said it best:
UNLV 70, UNR 58.
January 31, vs Air Force: There is no such thing as "easy" game against Air Force. The Dave Rice era has its share of embarrassing results, but one of the worst was in February of 2013 in Colorado Springs, when the Falcons took a team with Anthony Bennett, and Mike Moser, and made it look like they had never played basketball before. I happened to at the Thomas and Mack that same night watching the Harlem Globetrotters. I followed the game on game cast, and I remember thinking to myself. "This Harlem Globetrotter game is more competitive than UNLV at Air Force." They aren't as talented as the Rebels, but they will make our freshmen look like freshmen. UNLV 72, Air Force 70.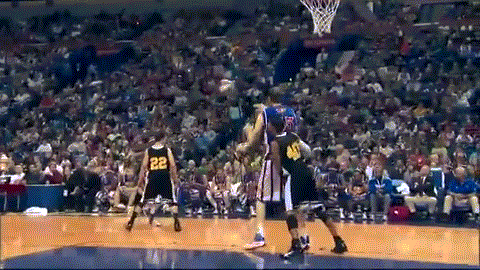 February 7, @ Colorado State: Last year was a massacre. Our team is better this year, but that still doesn't inspire too much confidence. I expect a better showing, but the same result. Colorado State 72, UNLV 65.

February 10, vs Fresno State: The Bulldogs are the one team that I know nothing about besides their current W-L record. It should be an easy win for UNLV as long as they don't fall asleep at the wheel. UNLV 77, Fresno St 68

February 14, @ Air Force: See above (January 31), but instead of it being played at home, it being played in a frozen arena surrounded by a bunch of dudes who could fly a drone into your living room. Air Force 68, UNLV 62

February 18, vs Boise State: We'll know a lot more about every team in the conference by the time that February comes along. Will Derrick Marks be able to make up for Drmic's absence? Will UNLV  suffer a late season morale collapse like last year? I'm hoping for a team that is healthy, happy, and hungry. UNLV 73, Boise State 65

February 21, @ New Mexico: Can UNLV win at the pit? Yes. Will they do it? Probably not. But this is my blogpost, and if I want to be a homer, than I will. UNLV 71, New Mexico 70.

February 24, @ USU: It is kind of sad that in their first few seasons in the MWC, Utah State hasn't had a great basketball team. When they have  a good team, the Utah State student section is as good as anyone in the country. UNLV 74 Utah State 70

February 28, vs Wyoming: I don't remember the last time that Wyoming beat UNLV in the Thomas and Mack? Anyone know? I don't get paid to write for Runnin Ramble, so I'm not going to look it up. UNLV 75, Wyoming 60

March 4, vs SDSU: As I mentioned earlier. We'll know a lot more about how the conference is going to shake up once we are in the middle of it. San Diego State has had UNLV's number for a long time, with the exception one year where we swept them. Until I see evidence that year will be any different, I'm sticking with SDSU. SDSU65- UNLV 62

March 7 vs SJSU: It will be interesting to see if San Jose State even has a team by the time March rolls along. For a team though that is not allowed to play in the post-season, this game could be their biggest of the year. If so, expect them to be up for it. UNLV 75 SJSU 66.

Final record: 21-7, (14-4). That should be good enough to be first or second in the conference.

The best thing about this prediction is I know I'm wrong. I know I'm biased. I only hope that I am right.

]]>